Menu•SiteMap | Biography
C. H. Mackintosh (1820-96)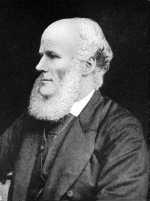 It is very interesting and indeed curious that just as Mr. F. E. Raven appears to be the least known of those used in an outstanding way in the recovery of the truth,
and is without doubt the most misunderstood, unfairly represented and unjustly maligned of any of the teachers amongst those known as brethren,

so Mr. C. H. Mackintosh – who despite the attacks on FER, remained in fellowship with him to the end – is one of their best known teachers,

whose ministry is greatly appreciated by brethren of all persuasions – and beyond.
G.A.R.
In October, 1820, Charles Henry Mackintosh was born in Glenmalure Barracks, County Wicklow, Ireland.
His father – a Captain in the Highlanders' Regiment – had served in Ireland during the Rebellion.

His mother was a daughter of Lady Weldon, whose family had been long settled in Ireland.
When he was eighteen young Charles was awakened spiritually through letters from his sister after her own conversion.
He obtained peace with God through reading J. N. Darby's 'Operations of the Spirit', and learning that it is Christ's work for us, not his work in us, that gives peace.
Around 1874, he wrote
"I had not the honour of being among the first of those who planted their feet on the blessed ground occupied by Brethren.

I left the Establishment about the year 1839, and took my place at the table in Dublin, where dear Mr. Bellett was ministering with great acceptance.

As a young man I, of course, walked in retirement, having no thought of coming forward in public ministry of any kind.

Indeed, I may say that nothing but the most solemn sense of responsibility could ever have induced me to stand up in public.

I never could, nor can I now, understand the excessive forwardness of some young men, who seem ever ready to thrust themselves before the assembly of God's people,

even in the presence of gray heads and gifted vessels. To me this sort of thing has ever been supremely offensive."
He opened a school at Westport in 1844, and enthusiastically threw himself into his educational work.
Despite this interest he was committed to Christ as the centre of his life and making Christ's work his chief concern.

By 1853, he gave up his school fearing that it was displacing the work of the Lord as his chief interest, to which he then, with God's support, devoted his life.
---
When Mr. Mackintosh came under attack for the use of the expression "heavenly humanity" in regard to the Lord, JND said in a letter of July 1862:
"I have no doubt CHM has expressed himself unguardedly in his expressions, but the accusing him of denying the true humanity of Christ is simple unrighteousness.

The poor church people glutton on what attacks brethren. I am sorry for it, but how can we help it?

That is all the feeling I have about it. It is a very bad sign for them."
J.N.D.
Paul might well have been likewise accused for saying
"the second man, out of heaven", 1 Corinthians 15: 47. GAR
For some twenty-one years, Mr. Mackintosh edited a periodical, 'Things New and Old', in which many of his own writings appeared.
With his usual clarity and forcefulnness, he stated his reasons for beginning such a work as follows:
THINGS  NEW  AND  OLD
In presenting to the reader the first number of our periodical, we feel called upon to state our reasons for entering upon such a service, and also the objects which we hope by the grace of God, to effect.
We do not deem any apology necessary for adding another to the numerous publications already extant, having for their object the circulation of pure truth. We want them all, and thousands more, if we could get them.

We cannot have to many agencies for the furtherance of that which is good, and the suppression of that which is evil.

For, first of all, it is a lamentable fact that the enemy of souls has wrought, far more diligently, at the printing press, than the servants of the living God.

Numerous as are the books, the pamphlets, the tracts, and the periodicals in which the words of eternal truth shine, for the instruction and comfort of souls,

yet are they outnumbered, to an appalling amount, by the publications of an infidel, an immoral, and irreligious tendency.

We believe that the art of printing was designed, by a gracious Providence, as a powerful engine for the diffusion of scriptural knowledge;

but we cannot shut our eyes to the startling fact that the enemy is making diligent use of that very art, for the purpose of corrupting, in all directions, the springs of thought and feeling.

He is publishing, in the cheapest and most atrractive form, gross evil, soul-destroyong error, and perverted truth.

And, we may safely say, if positive error has slain its thousands, perverted truth has slain its tens of thousands.

Now, we are fully assured that, notwithstanding all the enemy's efforts, the Lord is gathering out His own – that He is accomplishing His purpose, and hasting His everlasting kingdom.

But should this be a reason for slackness, coldness, and indiference, on the part of the servants of Christ? The very reverse; yea, the assurance thereof is the basis of "stedfast" and "unmovable" service.

It is because we know, on divine authority, that "our labour shall not be in vain in the Lord", that therfore we work.

It would be sad, indeed, if what our God has graciously given as a soul-stirring encouragement to work should be used as a plea for inactivity, if the assurance of reaching God's end were to be a reason for neglecting God's means.

This would be a grievous use to make of the goodness and faithfulness of God.

But, further, we undertake this service because we feel bound to serve and testify, while the time for service and testimony lasts.

The day is rapidly approaching, in the which we shall not be called upon to render such fruits.

When we get into the Master's presence, we shall admire and worship; but now, in "the little while", in the night of His absence, it is our holy and happy privilege to be "always abounding in the work of the Lord", 1 Corinthians 15: 58.

We are responsible to let the light shine forth, in every possible way – to circulate the truth of God, by all means, by word of mouth, by 'paper and ink', in public and private, "in the morning and in the evening", "in season and out of season"; we should "sow beside all waters".

In a word, whether we consider the importance of divine truth, the value of immortal souls, or the fearful progress of error and evil, we are imperatively called upon to be up and doing, in the name of the Lord, under the guidance of His word, and by the grace of His Spirit.

C.H.M.

CHM expresses – better than I can – my own exercises
in the opening and continuation of My Brethren.     GAR
There is no record of CHM's oral ministry but his 'Notes on the Pentateuch' – originally published in six volumes – still remain popular. His 'Miscellaneous Writings' also appeared originally in six volumes.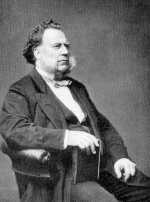 The preface to each volume of the 'Notes' was written by his friend Andrew Miller – author of 'Short Papers on Church History' –
– and The Brethren – Their Origin, Progress and Testimony – who is said to have encouraged their writing and to have largely financed their publication.
AM said of CHM's expositions that, "Man's complete ruin in sin, and God's perfect remedy in Christ, are fully, clearly, and often strikingly presented".
Mr. Mackintosh wrote in a clear forceful style, and the story is told that Mr. J. N. Darby once said to him, 'You write to be understood, I only think on paper'.
His first tract in 1843 was on 'The Peace of God'. His last article – written in 1896, just a few months before deparing to be with Christ – was entitled 'The God of Peace'.
THE WRITINGS OF C. H. MACKINTOSH
==========================================

NOTES ON THE PENTATEUCH

Genesis, Exodus, Leviticus, Numbers, Deuteronomy

– Complete notes on each book

SHORT PAPERS

[Not Listed at this time]

ANSWERS TO CORRESPONDENTS

Added to the Church of God
Addressing the Lord Jesus
All Welcome
Almsgiving
Angel of the Church, The
As Oft as Ye Eat
Attitude in Prayer and Praise
Backbiting
Barren Ministry
Beast of Revelation
Call to the Ministry, The
Card Playing
Chastening
Children
Christ's Intercession
Christ or Doctrines
Christ or Feelings
Christ the Centre
Christians and Politics
Christians in Debt
Church's Commencement, The
Church's Place, The
Church Under Responsibility, The
Cleansing Word, The
Clubs
Confession
Cup Which We Bless, The
Discipline and Government
Dispensational Position
Divisions in the Revelation, The
Do all to the Glory of God
Dress, etc.
Eating Unworthily
Eternal Punishment
Evil Thoughts
Exhibitions
Faith
Fellowship in Almsgiving
First and Second Man, The
First Resurrection
Foolish Virgins, The
Free Salvation
Friends of Jesus, The
Gentiles Under Law
God or Man
God Our Strength
Good Conscience, A
Gospel, The
Going to Law
"Greater Works, The"
Heart, Not Attitude, in Worship
Heart's Treasure, The
Helping Others in Evil
House of Rimmon, The
Infant Salvation
Intoxicating Wine at the
Lord's Supper
Judas at the Lord's Table
Judgment, The

Lamb's Wife, The
Lawful Business
Laying up for the Future
Life More Abundantly
Lord's Day, The
Lord's Table, The
Man Christ Jesus, The
Man's Weakness
Ministerial Training
Mode of Marrying. The
Modest Apparel
Nature's Strength
Not Under Law
Observing of Days
One Fine Star
On Giving Out Hymns
On Taking an Oath
Parish Relief
Particular Resurrection, The
Perfect Love, and Its Outflowings
Personal Adorning
Photography
Power of Godliness, The
Preaching Christ
Restoration
Saints' Rapture, The
Sample Kingdom, The
Satan's Power
Seeking the Kingdom of God
Self-judgment
Simon Magus
Sin and Transgression
Sisters at Bible Readings
So Let Him Eat
Spirits in Prison
Stimulants
Stopping Short
Sunday Schools
Things Which Differ
Treasures in Heaven
Trying to Believe
Unconverted Husband, The
Under the Sun
Unequal Yoke, The
Union with Christ
Unjust Steward, The
Upright Dealing
Utterance of Faith, The
Walking in the Light
Warning Voice, The
Wedding Garment, The
What Is My Motive
Wine Used at the Lord's
Table, The
Woman's Covering
Women Preaching
Working and Preaching
Wrath to Come, The
Zipporah, a Type of the
Church

ARTICLES

Letters to a Friend on the Present Condition of Things

See an Extract:
History: The First 50 Years: A History
The Bible – Its Sufficiency and Supremacy
Christianity – What is it?
The Ministry of Christ Past, Present, and Future
Words of Counsel
God's Way, and how to find it

MISCELLANEOUS WRITINGS

• Miscellaneous Writings - Book 1:
The All-sufficiency of Christ
Discipleship in an evil day
Forgiveness of sins: What is it?
Gideon and his companions
Job and His Friends
Final Perseverance: What is it?
The Christian: His position and his work
The Christian Priesthood
Regeneration: What is it?
Sanctification: What is it?
The Unequal Yoke

• Miscellaneous Writings - Book 2:
The Assembly of God
Decision for Christ
"Gilgal"
"God for us"
Thoughts on the Lord's Supper
"The man of God"
Prayer, in its proper place
The Sabbath, the Law, and the Christian Ministry
"Thou and thy house"
Now and Then


• Miscellaneous Writings - Book 3:
Conversion: What is it?
Evangelization – A word to the Evangelist
Papers on the Lord's Coming
Christian perfection: What is it?
Pre-Millennial Doctrine or Waiting for the Son?
Simon Peter – His life and its lessons


• Miscellaneous Writings - Book 4:
The Call of God – Abraham and Lot
The Life and Times of David
The Life and Times of Josiah
The History of the Tribe of Levi


• Miscellaneous Writings - Book 5:
The Great Commission
The Life and Times of Elijah
Glad Tidings
Ministry of Reconciliation


• Miscellaneous Writings - Book 6:
The Three Crosses
The Christian's Mission
David's Companions and Paul's Friends
"The dew of Hermon"
The Discipline of the Assembly
Diversity and Unity
Divine Titles
Epaphras, The Service of Prayer
Eternal Punishment v Universalism and Annihilationism
God's Fulness for an Empty Vessel
Grace and Government
"Holy Brethren"
"There is one body"
Israel and the Nations
Jehovah's Demand and Satan's Objections
John the Baptist – only "a voice"
Landmarks and Stumblingblocks
Life-works
Living by Faith
The Living God and a Living Faith
One-sided Theology
Our Standard and Our Hope
"Peace"
Prayer and the Prayer Meeting
"Publicly and from house to house"
Each Member – A Help or a Hindrance: Which?
"Ready"
"The regions beyond" 2 Cor. 10: 16; and Saul of Tarsus
"Thyself and the doctrine"
The True Workman


• Miscellaneous Writings - Book 7:
The Three Appearings
Bethany
The Bible: Whence is it?
Christ in the Vessel
Work in its Right Place
Jehoshaphat – Worldliness
Jericho and Achor – Privilege and Responsibility
Legality and Levity
The Passover in Egypt
The Remnant – Past and Present
Restoration
A Risen Saviour
The Throne and the Altar
The Two Musts


OCCASIONAL PAPERS

The Blind Man, and the Pharisees who said "We see"
Communion with God: What is it?
The True Ground of Peace
Unity: What is it? And am I confessing it?
Fifteenth Letter to a Friend
The Church
Words of Counsel
God in Everything
False Worship
A Word on Christian Intercourse
Jacob Alone With God
Jesus Risen
Law and grace Exemplified
The Lord Our Shepherd
The Love of Jesus
The Prisoner of Hope
Inside the Veil, Outside the Camp
Despite appeals and pressures from many quarters – and from the Continent especially – Mr. Mackintosh remained in fellowship with Mr. F. E. Raven to the end.
While there is no record of their personal contact, there are at least four letters of CHM's on record indicating he had no difficulty with Mr. Raven or his ministry.
In History: The Champney Letter – which details the whole controversy – Mr. H. D'Arcy Champney quotes from two of CHM's letters.
Writing at the beginning of October 1890, CHM says:
I see no adequate ground for the charge of heresy and blasphemy on the one hand; and on the other hand I cannot discern the Spirit of Christ in the letters, papers, and actings of the seceders.
In a letter to Mr. J. A. Trench, CHM says:
I thank God with all my heart for the judgment He has given you as to our present trouble. I fully endorse every line you have written.

The fuss that has been made about the doctrine is to me most humiliating. Truth, that has passed current among us for fifty years, is now made a matter of dispute.

It reminds me of two men disputing about the form of a globe – one is inside, and the other outside. The former maintains that it is concave, and the latter stoutly contends that it is convex:

they do not see that, in order to reach a sound conclusion, they should cease their contentions, and take in both sides.

Mr. Raven has been, I dare say, contending for the subjective, the practical experimental side of things; but through one sidedness and obscurity he has left himself open to attack,

and then, alas! instead of calm, prayerful, loving conference, it has been made a miserable party affair.
As to this letter, Mr. Raven writes me: "I do not quite accept his verdict; what got me into trouble was insisting on the objective, the new sphere. Eternal life is not simply a new vitality, but a new man in a new scene". HD'AC
Two more letters of Mr. Mackintosh are given below:
On November 29, 1890, CHM wrote from Dublin to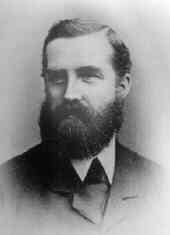 Mr. George Cutting, author of the well known tract 'Safety, Certainty and Enjoyment':
I feared that you would have to encounter a good deal of trial in consequence of the sad and humiliating condition of things amongst us.
I have never known anything like it during the fifty years I have been on the ground.

Only think of some who have walked for years in ostensible fellowship with us, now charging us with being identified with heresy, blasphemy and attacking the adorable Person of the Son of God;

mark the bitterness of feeling, the diligent effort to gather up in all directions dirt to fling back upon their brethren; where is the Spirit of Christ in all this?

Where the broken heart and weeping eyes at the terrible thought of our being involved in such evil?

Alas, there is what looks much more like a malignant effort to extract heresies out of papers, which if read with an unprejudiced mind would yield profit and edification. It is all most deplorable.
He continued: As to the charge brought against Mr. Raven of heresy, blasphemy and attacking the Person of the Son of God, they are simply monstrous, there is no foundation for them.
Some seem possessed with the idea that there is behind and underneath a regular system of doctrine subversive of Christianity. I ask such, what have we got to do with what is behind and underneath.

We can judge what is before and above and they have utterly failed to produce adequate evidence to sustain their charge, but beloved Cutting I am persuaded that we need all this terrible sifting, else the Lord would not have allowed it to come upon us, and

further I believe that the Lord will bring rich blessing out of it all to individual souls, indeed I see it already in many; more knitting of hearts in true brotherly love, instead of cold, formal, nominal fellowship.

For myself I am conscious of feeling a real spring in the inner man, a more profound sense of the love of God; the preciousness of Christ and authority, majesty, fullness and loving depths of Holy Scripture, and I look for much more for myself and others through the infinite grace of Christ.

I do trust that we may be soon done with this heart sickening, soul withering discussion and strife and be allowed to go on heart to heart in communion and worship, shoulder to shoulder in service and testimony, that is what I long for, nothing else has any charm or interest for me.

This is what I have been seeking for in my poor way to realize and promote for the last fifty years, and by the grace of Christ shall never accept anything else.
C.H.M.
---

Then on April 3, 1896, not long before the Lord took him, CHM wrote from Cheltenham:
The early part of this letter is given below in 'His Last Days'.
… As to your question about Mr. Raven, I can only say I do not believe he holds any fundamental error.
He has repeatedly conferred with brothers who had any difficulty or question as to his doctrine and they have expressed their entire satisfaction and confidence.

His oral ministry is highly appreciated in all quarters. As to his writings, he may have been misunderstood and misrepresented, but I believe he is ready and willing to satisfy any honest enquirer.
Finally: In conclusion, I may just say that, in looking back at all our sorrowful and humiliating splits and divisions for the last fifty years, I believe them to have been, for the most part, the sad fruit of unbroken material, somewhere.
Had there been more self emptied dependence upon God, more tenderness, gentleness, confession and prayer; and round the fountain of Holy Scripture, in true teachableness of spirit, much of our sad and humbling divisions might have been avoided.

But our God is above all. His "foundation standeth sure" with its double seal "The Lord knoweth them that are His; and let everyone that nameth the name of the Lord depart from iniquity".
But I must close. Love to the brethren. The Lord bless you all.
Affectionately yours in Christ, C.H.M..
He resided at Cheltenham for the last four years of his life.
When, through bodily weakness, he was no longer able to minister publicly he – as JBS also did – continued to write.
On April 3, 1896, just seven months before the Lord took him, CHM wrote from Cheltenham:
Though hardly equal to the effort of stooping over the desk, I feel I must send you a loving line to acknowl-edge the receipt of your kind letter of the 21st ult.

I have been an invalid for over a year, confined to these two rooms. I am still very poorly and in the doctor's hands, suffering from bronchitis, oppression, suffocation and great debility, in every department of the constitution.

But all is divinely right. The gracious Lord has been with me and given me to realize, in a very marked way, the preciousness and power of all I have been speaking and writing about for fifty-three years. Blessed be His Name.

I know you will lovingly excuse a very meagre scrap as I am not able for much writing …
He fell asleep peacefully on November 2, 1896.
Comments of C. A. Coates

Peter, knowing that the putting off of his tabernacle is speedily to take place, and Paul the aged, a prisoner at Rome, feeling that he has combated the good combat and finished the race, are both found, in a most devoted and diligent way, keeping the charge.

It is really a very fine way for the individual servant to finish his course in the wilderness.

We have known beloved servants in our own day who have reached years when active labour had to cease, but who continued to the very end to keep the charge

I was one of the last persons to hear C.H.M. pray. It was most touching to hear the aged and feeble Levite pouring out his heart to God, first for the whole assembly, and then for the little companies gathered everywhere to the Lord's Name.

The Lord's interests were the great burden of his heart. Though he had been for a length of time incapacitated for any public service he was still keeping the charge.
– CAC in 'Outline of Numbers', 4: 111.
On November 6, 1896 – in his own last days, just six months before being taken by Christ – Mr. J. B. Stoney said of CHM, "He is now where love is satisfied".
The Lord took CHM on November 2, 1896. Four days later a large company from many places gathered for his burial at Cheltenham Cemetery.
He was buried by the side of his beloved wife,

in what is known as 'the Plymouth Brethren plot', where many brethren of both 'exclusive' and 'open' persuasions are buried.

Dr. Walter T. P. Wolston, of Edinburgh, spoke on the burial of Abraham, Genesis 25: 8-10 and Hebrews 8: 10.

WTPW also spoke at the burial of JND in 1882, and at the burial of FER in 1903.

Then, before dispersing, the brethren sang:

O bright and blessèd scenes,
Where sin can never come;
Whose sight our longing spirit weans
From earth, where yet we roam.
J. N. Darby, No. 64 in the 1973 Hymn Book.