Menu•SiteMap | Biography
G. V. Wigram (1805-79)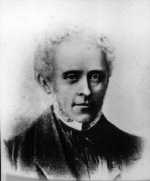 The life and labours of GVW are not generally well known by brethren, even though he was one of the leading brothers of his day.
He was not only occupied in setting out the truth but also in doing needed work – in accord with the word:
"Whatever your hand finds to do, do with thy might", Ecclesiastes 9: 10.
Compared to others of his generation, his life was relatively short, but the results of his accomplishments in the Lord's service remain to this day.

His faithfulness in earier times of trouble indicate he would have stood fast but,

in the Lord's mercy, he was removed from the scene of testimony just before the brethren were ravaged by divisions.
I am most thankful for the comments, contribution and corrections of both Max Weremchuk and Timothy Stunt.
G.A.R.
George Vicesimus Wigram was born on March 29th 1805. He was the twentieth child – hence his middle name – of Sir Robert Wigram, a merchant and ship owner.
He was the 14th child of his mother*, Sir Robert's second wife.

[* GVW's mother was Lady Eleanor Wigram, née Watts, (1767-1841) and there is an account of her philanthropic work in Walthamstow, in the entry for her in the recently published Oxford Dictionary of National Biography.]

Two of GVW's brothers gained worldly distinction: James as Vice-Chancellor in the Old Court of Chancery, and Joseph Cotton as Bishop of Rochester.
HIS  CONVERSION
The following is GVW's own account of his conversion
while a subaltern officer in the army.
Good instructions as to the contents of the Bible were mine at school, at seventeen, under a John the Baptist ministry;
but I never knew the gospel till, at nineteen, I went abroad, full of the animal pleasures of the military life.

I and my comrade spent out long and tiring day on the field of Waterloo in June, 1824. Arriving late at night at ——, I soon went to my bedroom.

It struck me, 'I will say my prayers'. It was the habit of childhood, neglected in youth. I felt down by my bedside; but I found I had forgotten what to say.

I looked up as if trying to remember, when suddenly there came on my soul a something I had never known before.

It was as if some One, Infinite and Almighty, knowing everything, full of the deepest, and tenderest interest in myself, though utterly and entirely abhorring everything in, and connected with me, made known to me that He pitied and loved myself.
My eye saw no one; but I knew assuredly that the One whom I knew not, and never had met, had met me for the first time, and made me to know that we were together.
There was a light, no sense or faculty my own human nature ever knew; there was a presence of what seemed infinite in greatness –

something altogether of a class that was apart and supreme, and yet at the same time making itself known to me in a way that I as a man thoroughly feel, and taste, and enjoy.

The Light made all light, Himself withal; but it did not destroy, for it was love itself, and I was loved individually by Him.

The exquisite tenderness and fulness of that love, the way it appropriated me myself for Him, in whom it all was, while the light from which it was inseparable in Him, discovered to me the contrast I had been to all that was light and love.

I wept for a while on my knees, said nothing, then got into bed.

The next morning's thought was, 'Get a Bible'. I got one, and it was thenceforward my handbook. My clergyman companion noticed this, and also my entire change of life and thought.
We journeyed on together to Geneva, where there was an active persecution of the faithful going on. He went to Italy,
and I found my own company – stayed with those who were suffering for Christ.
I could quite now, after fifty years' trial, adopted to myself in these few lines, as descriptive of that night's experience:
Christ, the Father's rest the eternal,
Jesus once looked down on me,
Called me by my name external,
And revealed Himself to me.
With His whisper, light, life giving,
Glowed in me, the dark and dead;
Made me live, Himself receiving,
Who once died for me and the bled.
---
Leaving the army, in 1826 GVW entered Queen's College, Oxford, with the purpose of of taking holy orders in the Church of England, but shortly gave this up in view of labouring for the Lord under His direction.
J.N.D.'s  FIRST  IMPRESSION
–  about  1827
"Be ye also holy in all your conversation",
1 Peter 1: 15.
Taken from a xerox of a typed/mimeographed sheet entitled 'Mr. J. N. Darby's first impression of Mr. G. V. Wigram, about 1827' which is noted "copied at Reigate 6/4/66".

It is generally thought that it was around 1830 during a visit of JND to Oxford that he and GVW first met. The following remarks by Timothy Stunt put the matter in a new light:—

Of very great interest to me is your quotation from JND's first impression of GVW, which I have never seen before. In it he describes GVW as "not more than 22".
In the introduction to his Englishman's Greek Concordance (pp. vi-vii) GVW says he went to Ireland 'unexpectedly' in September 1830.

If JND's guess as to his age was a good one then it seems that GVW went to Ireland a few years earlier. Certainly JND didn't visit Oxford until July 1830.

It may well be from 1827 because the reference to GVW visiting JND twice and sitting with him for one and a half hours leads me to think this was during JND's enforced convalescence – late in 1827 after a riding accident. The young JND was very energetic and not one to sit at home and wait for people to call on him.

Timothy Stunt.
See below for an extensive research note on the above and other matters relative to GVW by Max S. Weremchuk.

Such a saint as Miss F. brought in to two take tea with us this afternoon! A Mr. Wigram, not more than 22, preparing for the ministry.
Whilst his spirit and conversation have laid me in the dust, his weighty words and sentences I pray God I may never forget.

So much is given hand of the Spirit, one help our Lord's sanctifying presence amongst us.
He read to us during tea Psalms 67 and 23 with such a holy solemnity of voice and manner as if he felt every word was God's word. Our conversation took the following topics:
that we did not simplify prayers enough;

that it is the lifting of of the heart all of a long that we may be assured walking with God as a friend telling Him everything;

that we lose much by not waiting on Him in following up petition, supposed the salvation of any friend to be ours, to turn the mind to that point during the day;

that we may be assured the closer we walk the more the light of His countenance we shall enjoy;

the ejaculatory prayer, the lifting up of the eye and the realizing the eyes of God upon us, is the great secret of spirituality in social intercourse;

that the deeply spiritual mind cannot be a great talker, because such are watching and cherishing the visits of the Spirit ascending at intervals in all the secret acts of faith and love and praise;

that the expression of the eye tells these breaks off whilst others around them are taken up with present things.
You never find a spiritual Christian late in bed.
Mr. Wigram sees such a want of spirituality in this in the interior state of things as to communion with busy active people – the soul starving amidst the sense of duties.
Mr. Wigram came and sat with me one and a half hours yesterday. I can give you no idea of his prayer.
Every word filled with realizing His presence before whom the angels cover their faces, so hallowed, so happy as if in the presence chamber.

The savour of his two visits I feel at this moment and never can forget the messages of Lord commissioned him to speak to my soul.

Oh! how much did he dwell on the privilege of cultivating the continual presence of Jesus, of living in the Spirit of prayer all the day long.
J.N.D.
• Plymouth
While at Queen's College he met a Mr. Jarratt. He also met James L. Harris and Benjamin Wills Newton, both of Exeter College.
Around 1830, they were all active in the formation of a company of Christians at Plymouth, separated from the organised churches, and gathered to the Name alone of Jesus, in view of bearing a testimony to the unity of the church, and to its direction by the Holy Spirit alone, whilst awaiting the second coming of the Lord.
• London
Mr. Wigram went from Plymouth to London where, through his labours, a gathering was formed at Rawstorne Street on the same basis as in Plymouth.
By 1838 there were a number of gatherings in London and area and the need for some coordination in action was apparent.

On page 60 of 'A History of the Plymouth Brethren', W. B. Neatby says "Wigram addressed – evidently to Darby – the following letter" on October 6, 1838:
My dear friend and brother,
There is a matter exercising the minds of some of us at this present time in which you may be – and in some sense certainly are – concerned.
The question I refer to is, How are meetings for communion of saints in these parts to be regulated?

Would it be for the glory of the Lord and the increase of testimony to have one central meeting, the common responsibility of all within reach, and as many meetings subordinate to it as grace might vouchsafe?

or to hold it to be better to allow the meetings to grow up as they may without connexion and dependent upon the energy of individuals only?

… truly, provided there be in London some place where the wanderer can find rest and communion, my desire is met; though the glory of the Lord will of course be still to be cared for.
I am, dear brother, yours in Jesus, G.V.W.
Neatby* says, "This is particularly interesting as containing the first proposal for a federation of the little meetings of the Brethren".
* "I have seen the book of Neatby to which you refer, and it produced on my mind the same impression as it has done on yours, it is the work of an Edomite, not a trace of sorrow for the breakdown of that which was fair", F. E. Raven, Letters: 187.
As might be supposed, Mr. Wigram's inquiry has – to the present day – been completely misunderstood by those on independent ground,

who have no idea of the Scriptural concept of the unity of the assembly in a city.

What Mr. Wigram was referring to took form in that year as the London Saturday-evening administrative 'central meeting', attended by representatives of all the London meetings.

As means of travel improved this type of meeting was attended by all the brothers in a city – and was often mistakenly called the 'brothers' meeting'.

Such a monthly city-wide meeting – including the sisters since 1951 – has been more properly known as the 'care meeting', as the purpose was to care for the Lord's interests as they might be known.
The following hymn by Charles Deayton (1887-1967) – No. 505 in the 1993 Supplement – indicates the spirit in which our Lord's interest should be cared for on such an occasion.
With loyal hearts, O Lord, to Thee,
We'd serve Thine interests here,
Grant that we each may faithful be
Until Thou shalt appear.

And by the Spirit from above,
Now in Thy service free,
Here in the diligence of love,
Our hands would active be.

Now with the things that are of Thee
We would be occupied;
With true assembly feelings see
That Thou art glorified.

Do Thou our hearts, Lord Jesus, hold,
And with us have Thy way,
Our wills subdued, our minds controlled,
Thy will obtain to-day.
Another hymn, No. 546 in the 1993 Supplement, by Mr. C. A. MArkham, shows the same spirit of reverence.
Our God and Father, we are here to share
Interests divine;
True is our love and genuine our care
For what is Thine,
As moved by Christ's own feelings in our heart,
We long to bear with priestly hands our part.

The sanctity of Thine abode on earth
Our hearts would guard,
That by unholy ways its holy worth
May not be marred.
The couch of Solomon we would surround
With valiant love and reverence profound.

Blest Spirit, who art here in charge of all
God's interests great,
On Thee, our Paraclete, we humbly call
As here we wait.
Hold us in faith, in dignity and power,
Throughout this privileged and sacred hour.
Mr. Wigram married Miss Fanny Bligh – daughter of Thomas Cherbury Bligh of Brittas, Co. Meath, known when a girl in Ireland – on March 23rd 1830 but she went to be with the Lord in 1834.
Frances Bligh's aunts were married – Catherine to Hon. Hugh Howard, Lady Powerscourt's father, and Frances Theodosia to the 2nd Earl of Roden.

Mr.Wigram married Catherine*, only daughter of William Parnell of Avondale, on August 18th, 1835.

[* She was the aunt of the late Charles Stewart Parnell.]

He visited Canada in 1867, his wife Catherine, joining him there two months later. She, however, became ill and after a short illness went to be with Christ on September 12th. 1867, and was buried in Canada.

Less than four years later, he suffered another sorrowful bereavement in the departure of his daughter Fanny, child of his first wife.

Now alone, he went abroad to minister to others. In 1871 he was Demerara, British Guiana, New Zealand in 1875 and Australia in 1877.
• The Present Testimony
The Christian Witness – issued quarterly from January 1834 to January 1841 – was the earliest of the many periodicals presenting the ministry of the brethren.
Articles were anonymous, but Mr. J. N. Darby is thought to have written the preface to the premier issue of January 1834.

Mr. James L. Harris – 1793-1877 – quickly succeeded its initial editor Mr. Henry Borlase – 1806-35 – following his early illness and death.

When it ceased publication, its place was taken by the Present Testimony which Mr. Wigram edited for many years.

In addition to ministry by other brothers it contained Mr. Wigram's own studies on the Psalms, in which he distinguished the Divine Names in the text.
• The Englisman's Concordances
The Englishman´s Greek and English Concordance to the New Testament was published in 1839; the Englishman´s Hebrew and Chaldee Concordance to the Old Testament in 1843.
It is only hinted at in the account, but it is understood that GVW financed the whole project.
In this day of online computer Bibles, multiple translations and integrated Greek and Hebrew lexicons, such works may seem obsolete and mere curiosities. However, in their time those two concordances were a real boon to students of the Scriptures.
Here is Mr. Wigram's own account of the Englishman´s Greek and English Concordance:
A detailed acccount of the formation, etc., of the Englishmans' Greek Concordance, has been the desire of several. This I shall now endeavour to meet.
The task is rather an arduous one; because, whilst the credit of exhibiting in English the exemplifications of each Greek word in the New testament is due to another –

on myself are supposed to meet the offices of Corrector, Enlarger, Improver and Editor.

Simplicity, however, will pass through all difficulties, howsoever great they may seem.

I would only state – as bespeaking a more favourable hearing – that my narrative will shew that the supposirion, referring to myself, is without foundation.

I am not Corrector, not Enlarger, not Improver, not Editor.

Proprietor of the copyright, through the gift of another, I am; and mine, too, is that sort of place which belongs to one who, having the right to direct, may have chance upon some good suggestions for the workmen.
As the book is a dry concordance I would crave the liberty to be as free as I can in my narrative.
It was in the year 1827 ot 1828, that I began to prepare some Essays explanatory and illustrative of the 'Terms conventional to the Scriptures'; e.g. Righteousness, Sanctification, Justification, etc.
One of these I thought much of; and I may give the course pursued in the preparation of it as an explanation of my general plan.
1st. After making a list of the places – books, chapters, verses – in which the words occurred, I carefully examined all the passages in the Greek testament in which the word dike or any kindred term occurred, endeavouring to seize on the abstract thought common to all the places in which it was found.
2ndly. I considered how many English words it would be necessary to use in order to express the varieties of shades of meaning.
And, 3rdly. I wroted down after each citation, either the word which would do for the translation in that place, or – where it had occurred before – some sign for it. This when arranged, formed the skeleton of the explanation, and the object of illustration.
Full of these Essays, I spoke of them to many.
In September, 1830, I went to Ireland, still labouring therein. Between that montth and March, 1831, Mr. W. Burgh, till that time a perfect stranger to me, came to stay a few days at Powercourst.

In the course of a walk with him, I spoke of part of the subject then interesting me; and he, I think, in reply referred to the advantage he had found in doing much the same thing himself;

only his preparation was better and far more simple than mine.

His plan was to arrange the passages in which the word occurred, according to the order of the books in the English Bible, from Taylor's Hebrew and Schmid's Greek concordances, and then write after each, a quotation from the English Bible, to present the word to the eye.
The design was so novel to me, and so admirable, that it delighted me much; and I urged his devoting all his time to the accomplishment of such a work.
If he would have allowed me, I should gladly have supported him while so doing; but this he positively declined.

With his usual ingenuity, however, he kindly devised a manner of meeting my wishes, by offering to engage lads to do the mechanical part of the writing under him.

How singular it is to look back upon the past scenes of life! My going to Ireland had been quite unexpected – his being asked to the house at that special time –

our lighting, in a walk as perfect strangers, upon that which had occupied our minds, 'how to elucidate Scripture' –

and the free blending together which followed in an effort to accomplish this object after the manner propsed by Mr. B. – and how different the motives which may operate!

Mr. B.'s object I know not – my joy in the project was the opening of a door for me, by which the plan of my Essays might be acted upon in Hebrew as well as in Greek.
Though Mr. B. had commenced, he says, Articles of the Greek previous to this, it was the Hebrew which, as the more difficult task, held the place of pre-eminence in his mind, and the one which he first mentioned to me.
The Hebrew was arranged for between us first – for the further account of it see that Concordance.

Knowing a little of Greek – though then nothing of Hebrew – and being still labouring at my 'Essays', I asked Mr. W. Burgh, whether he would permit me to adopt his plan for the Greek.

Though not systematically from the beginning, yet small portions had been writen out, according to his own need, perhaps, previously.

To this he consented, and further agreed to endeavour to get as much of it written for me – at so many pence per page, of so may line – as he could.

About 800 pages in MS. of this was beautifully executed under his care, i.e., about 200 pages in letterpress of the 900 pages seen in this volume.
Finding difficulty in proceeding with the making of the MS. further, he handed it over to me, to be continued or not, as I liked.
As he had most distinctly warned me at the outset, he would not undertake to have more done than might be quite convenient to him, I of course only felt thankful for this aid, superadded to the gift of leave to do the work.

For whilst he charged it only like blank paper, what it cost by the foot, to me is was the acquisition of so much 'painting', for it was most accurately and beautifully done; so that is is now, though soiled by having passed throught the press, MS. in a very good state of order.

The remaining 1800 pages of MS. were made by various hands; some a gift, some purchased between 1831 and 1839.

At Plynouth, in 1831, I gave away all that was done to a friend, in the hopes that he would correct and finish it; and from him I received it back as a present.

While a lady at the same place was writing part of it for me, she complained that it would be of no use to her, unless I gave 'a key' to it, 'English and Greek';

this remark, repeated by several, decided me to try and make the design and plan of 'A Greek and English Concordance' as opened out and given to me by Mr. Burgh, subservient to another design, as expressed by the present title, 'The Englishman's Greek Concordance';

by which I mean a Greek Concordance, such as one who can read English, and English only – the mere English reader – could consult.

For great as the aid, to one who could read Greek from Mr. W.B.'s Greek and English Concordance would have been, the mere English reader could not, by himself, have benefited much by it, from his want of knowing Greek …
The only originality, then, in this work, is the primary design of Mr. Burgh, by a Greek and English Concordance, to enable the tyro in Greek to consult a Greek Concordance with ease;
and a secondary design – which is really the reverse of this – the subordinating it by means of an English and Greek key to the use of the mere English reader.

And this is just what the title for it 'The Englishman's Greek Concordance', was meant to designate.

My relation to it then is just marked by the terms Proprietor and Nursing Father. Honour or thanks I desire none.

Indeed when I think of the origin of this book; of the progress of its development; of the innumerable difficulties which again and again threatened its destruction; and above all, of its tendency – as contrasted with the now prevailing increase of Romanism –

I cannot but bow my head before the God of Providence, and be ashamed at His having vouchsafed any connection with it to one so unworthy as
George V. Wigram
London, March, 1844.

• The Little Flock Hymn Book
The brethren had used several hymn books including
The Christian Hymn Book, the 2nd edition of which was published in Plymouth in 1836 by J. B. Rowe, and

Hymns for the Poor of the Flock, London, 1838.

Both contained some of JND's early hymns.
Mr. Wigram "was asked in 1856 to carefully examine some hymn books which were in common use".
As a result he produced A few Hymns and some Spiritual Songs, Selected 1856, for the Little Flock.

The hymn book was revised in 1881 – by JND – 1903, 1932, 1951, 1962, and re-selected in 1973. See History: The Hymn Book Part 1.

The 1973 hymn book has four of Mr. Wigram's hymns – No.'s 22, 92, 303, 329 –

and two by his daughter, Miss F. Theodora Wigram – No.'s 132, 195.
• His Travels
In his later years he paid visits to Demerara – later British Guiana, now Guyana – Barbados and Jamaica in the West Indies, Australia and New Zealand, etc., where his ministry seems to have been much appreciated.
The printed ministry of Mr. Wigram consists of five books:
Memorials of the Ministry of G. V. Wigram:
Volume 1 – Notes on Scrpture; Lectures, etc.

Memorials of the Ministry of G. V. Wigram:
Volume 2, Ecclesiastical and Critical

On Heresy
Volume 3, Letters.

Gleanings from the Teachimg of GVW

A Study of the Psalms,
Other Papers [by JND, JBS, and other authors].

The Blood, the Cross, and the Death of Jesus Christ;
their uses and applications by the Spirit in Scripture.
Remarks and Notes on John's Writings.
Mr. J. B. Stoney
said: "I always think Mr. Wigram had many things spiritually which he had not doctrinally, as J.N.D. had. He had the spiritual experience of eternal life, but he was only acceptable to those who also had spiritual experiences.

I think I learn truth experimentally before I get it doctrinally … I see now what is really denied in the objective school is new creation. No one could see new creation who did not see the old creation removed.

Letters from J. B. Stoney 3: 254.
Mr. Wigram took an active part in support of the truth in the Plymouth and Bethesda conflicts in 1845-48.
Later, in 1866, when Mr. Darby was under attack because of his teaching on the sufferings of Christ, Mr. Wigram stood by him.
HIS  LAST  DAYS
This section will be added when research is completed.
The Lord took His servant to Himself on January 1, 1879, at the relatively early age of 73.
The burial took place on January 7, 1879, at 3:00 p.m., at the Paddington Cemetery, Willesden-lane.

He was buried near his daughter Fanny and Sir Edward Denny.

Despite the earlier rain, several hundred brethren – including many sisters – were present so that there was not room for all in the cemetery chapel.
The oak coffin was inscribed
George Vicesimus Wigram,
Died, 1st January, 1879,
Aged 73.
After the coffin had been carried in, the meeting proceeded as follows:
Prayer: Dr. Edward Cronin.
He referred to "George Wigram" as having followed Christ for fifty years and being "no mean man" among his brethren.
Hymn 139: "This world is a wilderness wide"

[by JND who was in France at the time].
The hymn was read by a brother who suggested that GVW had been marked by the spirit of that hymn.
Prayer: Mr. Christopher McAdam.
Hymn 201: "Nothing but mercy'll do for me".*
[* The hymn, by Mr. Wigram, was in the 1856 hymn book but is not in the 1881 or subsequent revsions.]
Prayer: Mr. J. B. Stoney.
The coffin was then carried to the grave and lowered. There were between seven and eight hundred present.
Prayer: Mr. W. Kelly, Mr. T. B. Baines and Colonel R. F. Kingscote.
Word: Mr. J. Beaumont.
[* Author of No. 310 in the 1973 hymn book]
He read a few verses from the New Testament concluding with the closing verses of Revelation.
Prayer: Mr. – Coleman.
Hymn: "For ever with the Lord"*
[*Verse 1 of No. 12 in the 1973 hymn book, by JND]
RESEARCH  by  MAX WEREMCHUK
The following has been submitted by our friend Max S. Weremchuk, the JND biographer, "for discussion". Some of the details have been incorporated in the body of the biography.
June 24, 2003
Hi Gordon,
I am presently going through the Fry MS – the large volume collection – and writing out various sections in arranged thematic groups. This makes comparing accounts so much easier.
While doing so I came across Newton's letter to Wigram dated July 31, 1830 – pp. 264-266 –
Wigram is in Scotland and Newton asks him to look into the miracles taking place there. Newton goes into the question of miracles and so on and says he is undecided. In later accounts he is very decided against the miracles having taken place there.
What has caused others problems in the past is that it was always understood that Newton 'sent' Darby there.
That Darby was 'sent' is confirmed in CW 6: 284: "Once the Gaelic servant spoke briefly in 'a tongue', not, if the 'Irish Clergyman' remembers right, the same evening. The sense he had of the want of the power of the Holy Ghost in the Church made him willing to hear and see. Yet he went rather as deputed for others than for himself".
So what's with Wigram? In the same letter Newton asks Wigram if he knows Darby's address.
My guess is that this letter to Wigram was written after Darby left for Scotland – he stayed there 3 weeks. Newton is asking Wigram for Darby's Scotland address.

Newton is at this point undecided because Darby has not yet returned and reported about the events there. After he did so Newton was very much against what had taken place there.
What caused me problems at first was Newton's mention of "Mrs. Wigram" in this letter. She accompanied Wigram to Scotland.
From my other sources I had the information that Wigram married Catherine Parnell in 1835! This didn't seem to fit. But a friend of mine, very knowledgeable in genealogy, was able to help – once again.

George V. Wigram married Catherine Parnell on 18 August 1835 – that is true, but he had been married before, to Fanny Bligh on 23 March 1830 – daughter of Thomas Cherburgh Bligh of Brittas, Co. Meath.

Bells started ringing in my head. 'Bligh? Bligh? I've heard this before! Is his the Howard connection?' My friend was able to help again.

Sure enough, Frances Bligh's aunts were married – Catherine to Hon. Hugh Howard, Lady Powerscourt's father, and Frances Theodosia to the 2nd Earl of Roden. So we come full circle again!

The family interconnections of those involved in the early days of the Brethren are amazing!! – I'm going to put all this in a diagram form one day.
Now this brings me to the 'JND's first impression' of Wigram article on your site and Timothy Stunt's remarks on it.
His explanation that this was a description of Wigram meeting Darby in 1827 while he was still recuperating from his accident seemed to make sense.

Wigram writes of "unexpectedly" having to go to Ireland in September 1830 in the introduction to his Englishman's Greek Concordance and Timothy thought this might be a mistake for the year 1827.

I was inclined to agree though I felt a mistake in dating of 3 years was a big one. Being off by a year is one thing, but 3 years?

My looking into Wigram's marriage(s) seems to prove Wigram's date in the Concordance as right. The reason for Wigram going to Ireland in 1830 was because his father-in-law died on September 17 of that year!

Marriage records are not available to me, but if Wigram's wife was from Meath wouldn't the marriage have been there?

Is Cronin's mention of meeting Wigram perhaps connected with the time of Wigram's marriage?

Darby was in Meath in 1832 so why not in 1830? Maybe Darby and Wigram met there?
Timothy is quite right in saying that Darby's remark, "It was subsequently after July 1830 I went to Oxford – where Wigram was at Queen's – and joined him and Jarrett", does not necessarily imply he first met him there.
From Newton's letter to Wigram it would appear to be clear that it was July that Darby came to Oxford. Joining him could mean he already knew him.

But in an other account of Darby's we find: "It did not begin at Plymouth till 1832, where I went at Mr. Newton's request, then a fellow of Exeter College, Oxford. There were never more than seven hundred there. It began in London about the same time, through one I had met in Oxford", Letters 1: 515.

He doesn't name Wigram here, but it obviously is he. The impression made is that he met Wigram then. He does not say, 'One whom I knew from a meeting in Ireland'.
These are just thoughts I am throwing up for discussion.
There is much that would speak for an earlier meeting of Darby and Wigram than Oxford when we consider the Bligh/Howard connections, but we have no clear picture – yet – of the exact circumstances.
To be perfectly honest with you, and I am not saying this to anger any one or for the sake of taking a different standpoint, I don't feel comfortable with the comments attributed to Darby about Wigram.

There is something 'wrong' with them. When I read and re-read them they somehow don't fit.

Risking the danger of being viewed as crazy I'd say there is something feminine about them. I would not be surprised if they turned out to be remarks written by a woman – maybe a sick, bedridden woman.

But it is not only that. The expressions are unfamiliar.

I've run a computer check of Darby's complete published writings on some of the more characteristic expressions used in the account and what I have found seems to prove my point: this is not 'Darby language'.

It reminds me very much of the diaries of Christian women I have been studying lately from that time period – first half of the 19th century.

Of course I can be way off target and this is just an example of Darby's earlier writing style.
What do you say? Max.